When it comes to deck surface materials, tile is an excellent option—it offers a different aesthetic than wood or manufactured decking and is endlessly customizable. But if you're thinking of using tile on your traditionally framed or rooftop deck, there are a lot of things to consider: How much weight can it hold? How much heat and moisture will it withstand without damage? What's the correct way to prep for a tile installation?
One of the quality brands of outdoor tile is Mbrico. Developed 10 years ago by residential contractor Mark McManus of McManus Development, Mbrico is a premium porcelain tile system designed to answer all the above questions. Today, we're breaking down what Mbrico is, its features and benefits, and how to use it.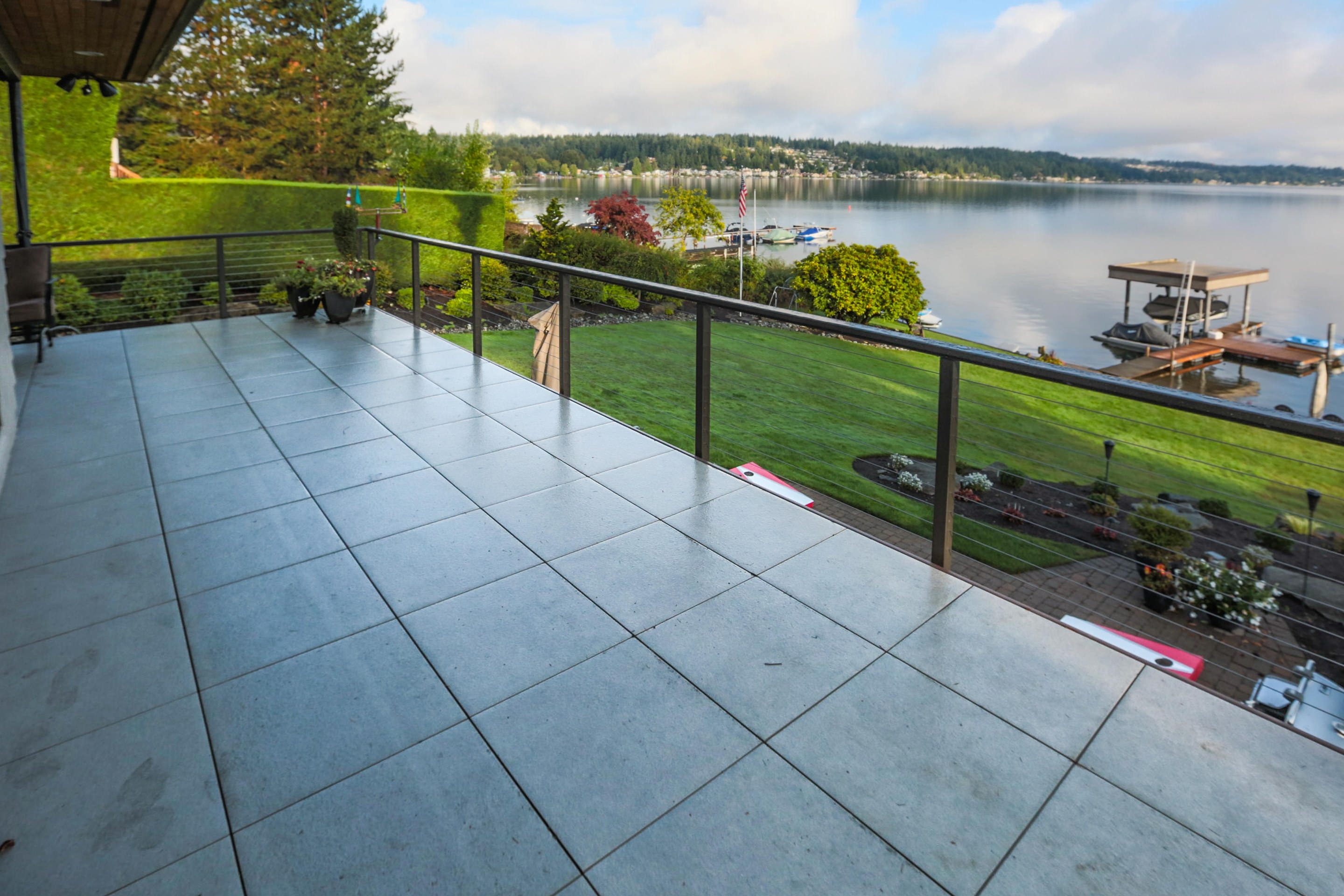 A cutting-edge decking surface solution
In 2009, contractor Mark McManus had a problem. As a craftsman who worked primarily on higher-end homes in the Midwest (think upwards of $1 million), McManus's clients were uninspired by the look of wood or manufactured decking. His solution? Italian tile—it was stronger, had been used as an exterior product for a long time, had the right traction rating (meeting ADA requirements), and was more aesthetically pleasing. But after extensive testing, he found it wasn't strong enough—and no supplier could guarantee that the tile wouldn't break on a raised deck.

McManus started experimenting and eventually had a breakthrough: By using epoxy to adhere a fiberglass plate to the bottom of the tile, he created a reinforcement that allowed for spacers and track indentation, didn't require grout, and could withstand a breakage point of 4,500 pounds.
After acquiring a few patents, Mbrico Tile was born: a cutting-edge product that is frost-resistant, chromatically stable (the color doesn't fade or change over time), ultra-durable, easy to clean, resistant to mold and stain, and naturally anti-slip. And because Mbrico tiles absorb almost no water, they can stand up to frost, molds, moss, and verdigris. Since the company's launch ten years ago, Mbrico has made a name for itself in the decking world as a home feature akin to granite countertops or an infinity pool—it can dramatically increase the resale value of a home.
Simplified installation
When it came to creating the installation system, McManus wanted to put the contractor at the center of the process. A contractor himself, he understood the headaches that come with proper deck surface installation and wanted to create something that any contractor could install quickly and easily. Mbrico tiles are precision-cut to fit accurately into the track system and keep your layout straight and true.
Mbrico tiles use a track system that can be adapted both for traditionally framed and waterproof decks as well as rooftop spaces. The Mbrico track system is manufactured to precise specifications for accurate coupling and requires only mechanical fasteners and standard tools, making installation easy for any skilled carpentry crew.
Sixteen-inch on-center joist spacing is typical for traditionally framed decks when built to local code requirements. The track system for waterproof and rooftop decks uses a pedestal system and is designed with the installer in mind. The Mbrico system uses half the number of pedestals as conventional pedestal systems, and there's no need for on-site adhesives or grout. The system is 100 percent self-spacing and provides an integrated straight line for installation. Designed for flexibility and modification, these systems can be paired with just about any railing product and are adaptable to surface and fascia-mounted railings with tile waterfall edges, composite picture frame borders, or flush fascia boards.
Earth-friendly components
There are many factors to consider when assessing whether a product is eco-friendly—including raw materials and components, manufacturing process, and lifespan. Since its inception, Mbrico has put sustainability and longevity at the center of its approach. All components in its collections are LEED compliant and in line with the IPPC directive. While some natural stone releases radon, Mbrico components don't give off any radioactive gases. The high-quality porcelain tiles sourced from both Italy and the United States use no waterproofing chemicals, varnishes, or resins, so they're completely non-toxic—even when exposed to flames.
The company invests in research and development with the goal of creating new products that adhere to stringent sustainability standards. They also execute their manufacturing processes in a manner that falls in line with international ecological parameters. Simply put, Mbrico tiles are completely environmentally friendly.
Learn more about Mbrico Tile
There are many reasons to consider Mbrico tile for your next outdoor project. To see the materials in person and learn more about the installation process, visit the Outdoor Living showroom at Dunn Lumber Bellevue, or contact one of our knowledgeable staff at mbrico@dunnlumber.com.