GacoDeck is a water-borne, single-component, waterproof deck system that can be applied over plywood, concrete, metal, fiberglass, and previously coated surfaces. GacoDeck is very user-friendly, and its low VOC content makes it nice for multifamily work. Like many other building material products, GacoDeck must be installed according to manufacturer's directions.

This information is designed to help you avoid the "pain" that can come along with an improperly installed GacoDeck project. From framing construction tips to rolling on the final coats, this article will guide you through some of the best practices that have been deemed a "must" when using GacoDeck on your waterproof deck project. If you adhere to the recommendations in this article, you will enjoy a quality GacoDeck installation that will provide enjoyment for years to come.
1. Use the Proper Plywood
That means using ¾" solid cross-banded underlayment grade with an "A" face (APA grade stamp required). (Dunn Lumber part: #ACHARDEL34)
If you are going over an existing deck (planks), or other solid substrate, the plywood used can be as thin as ½", with the same grading specs. Be careful not to put new plywood over the top of existing damp or wet plywood.
Additional Construction Details
All panel edges (including tongue & groove) should be supported by the primary framing, or by adding additional blocking.
Ideally, plywood joints should be 1/16"-1/8" wide.
Plywood must be kept completely clean and dry prior to the first coat being installed.
Confirm the substrate is completely dry by laying a 4 square-foot piece of plastic sheeting on the deck, taped down at all four corners. After a minimum of four hours, pull back the plastic and verify there is no amount of moisture on the deck or plastic. If moisture persists, continue drying until moisture no longer exists.
2. Fasten Plywood
Use corrosive-resistant screws or hot-dipped galvanized box nails only. Length of nails should be 6d for ¾" plywood, 8d for 7/8" plywood, and 10d for 1 1/8" plywood.
Space fasteners 6" on center along panel edges, and 12" on center in all directions in the field.
Screws and nails should be driven flush with the surface of plywood.
3. Frame with Adequate Slope
Remember: To help ensure the success of your project, ensure the deck surface is built with adequate slope.
Slope your deck framing at least ¼" per foot.
4. Use the Right Amount
It is critical that you use enough GacoDeck to build up adequate mil thickness.
For new plywood, use one GacoDeck kit per 100 square feet.
For recoats, use one gallon of GacoDeck Topcoat per 133 square feet.
GacoDeck Primer should be applied at a rate of 200 square feet per gallon.
GacoDeck Topcoat and GacoDeck Primer can be applied with a ¾" nap roller.
5. Use GacoDeck Primer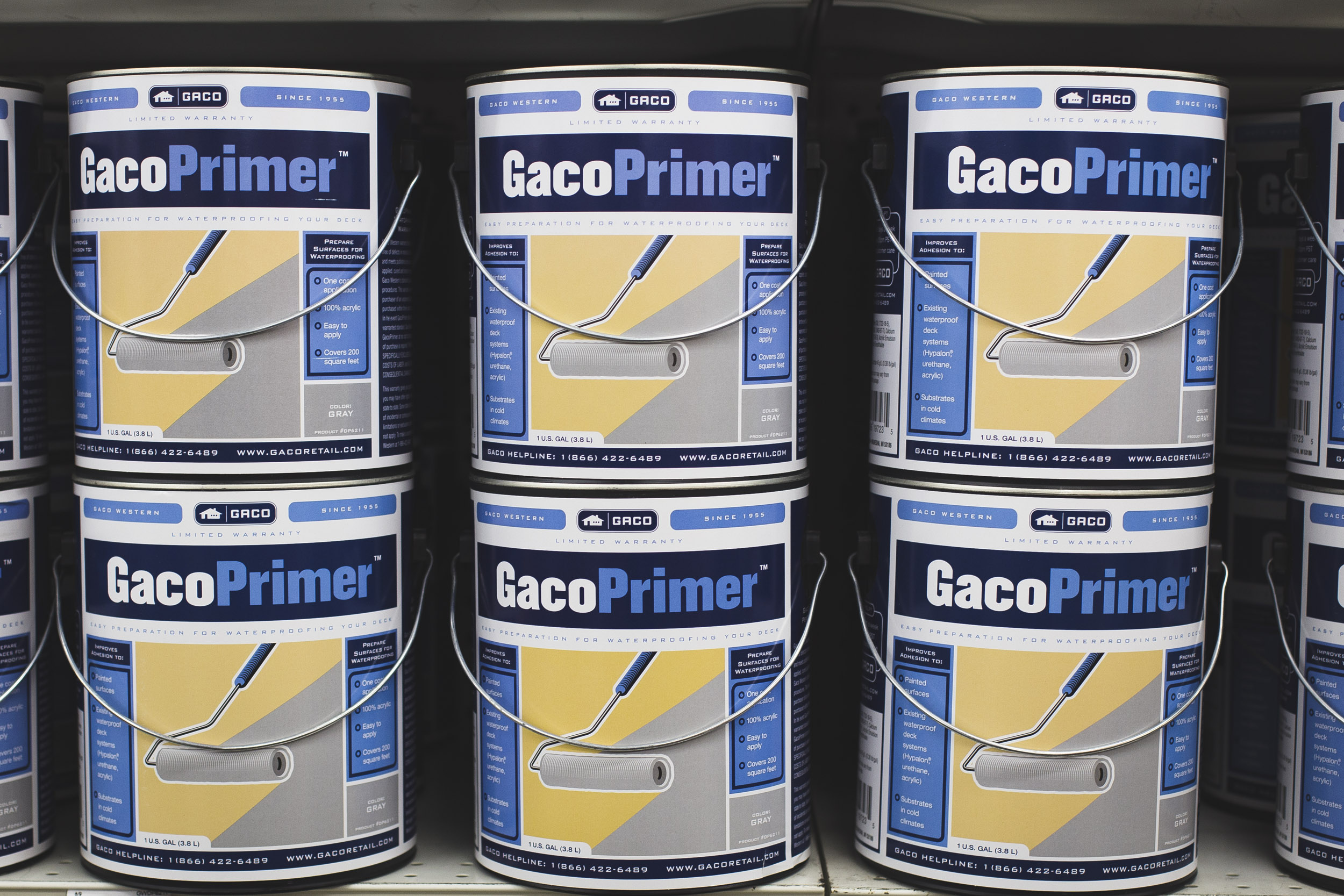 Use GacoDeck Primer on previously coated surfaces.
Lightly sand if the existing coating has a glossy surface.
When in doubt: Use the GacoDeck primer.
6. Temperature Range for Application
Do not apply coating during temperatures below 50° Fahrenheit, or if temperatures will fall below 50° within 6 hours
Remember: The minimum and maximum temperature requirements include surface temperatures. That means it might be 80° outside, but if the surface itself is 95°, it's too hot to apply.)
7. Sand Taped Seams
Lightly sanding the edges of the taped seams before the first base coat will provide a much better looking finished product. Use medium-grit sandpaper.
8. Finishing
After two base coats are applied, mix in GacoGrip Texture Granules with the remaining coating and apply the final two coats.
For best results, apply the final two coats cross-directionally.
Read to get started? Click here to start shopping. Have any more questions? You can always contact the GacoDeck technical helpline:
Technical Helpline
(800) 331-0196
7:00 am-6:00 pm CST
Mon - Fri