Upgrading a home to provide wheelchair accessibility is a vital need for many families. Each May since 1993, dozens of families across King and Snohomish counties receive a ramp at no cost thanks to Rampathon, an appropriately named one-day sprint. During Rampathon, a group of volunteers from the Master Builders Association of King and Snohomish Counties and the community set out on a mission: to improve the lives of their neighbors by adding wheelchair-access ramps to the entrances of their homes.

With volunteer support and donated materials, Rampathon has constructed more than 500 ramps and contributed more than $2 million of in-kind contributions to the community. This year marks 26 years of the annual tradition, and if the past 25 years have been any indication, it'll be another big year. As Rampathon 2019 approaches (to be held on Saturday, May 18), we're interviewing a handful of our friends in the community who've participated in Rampathon over the years.
At Dunn Lumber, we value our relationships with our customers. We wanted to take some time to celebrate how our customers have been involved in our community. In this blog, we're highlighting Chermak Construction, who began participating in Rampathon in 2010 and has participated annually ever since. Today we're chatting with Richard Lawrence, Chermak Construction's marketing manager.
How long has your organization participated in Rampathon?
Rampathon has become a staple for our team. We built our first ramp nine years ago and have participated each year since.
How did you first hear about Rampathon?
In 2010, one of our employees suggested Rampathon to the owner. As a strong supporter of the community we live in, it seemed like a great fit and we enlisted our first Rampathon team.
How much planning is involved prior to the actual event?
One of our favorite parts is selecting a recipient from the list the Master Builders Association of King and Snohomish Counties sends us and then visiting the family. During the visit, we learn more about them and answer any questions or concerns they may have about this project. A volunteer sign-up sheet is distributed among the staff and one of our staff members takes site photos and measurements and creates the ramp design and materials list. Preparation also includes scheduling a Sani-Can for the site, getting supplies for the ramp, and planning food and drink for our staff on building day. We also post the Rampathon sign in the recipient's yard several days before the event to let the neighbors know what is coming.
What does your team do the day of?
We start bright and early (7 a.m.) by setting up our tools and a canopy for staining all wood prior to installation. The rest of the volunteers show up at 8 a.m. and our day begins. Normally, the recipient is home throughout the project. Sometimes they take photos, do time-lapse videos, or just hang out with our volunteers. Getting to know the family we are serving is one of the best parts of the day.
What has been your favorite Rampathon project and why?
We have done ramps for people of all ages with various limitations. It is a real joy to see the look on their faces when they first try out their ramp and realize how much it will improve their lives. Building ramps for children is very special to us. Our employees enjoy connecting with the recipient and other family members. Some of these families return in later years to bring "thank you" treats. One of our favorites was the ramp we built in 2018 for Luca Keogh. He is a delightful 8-year-old with boundless energy who loved being involved. He and his siblings helped stain wood, carry supplies, and just enjoyed being with our volunteers.
How does Rampathon affect your team?
For our staff volunteers, Rampathon is something we look forward to each year. It is a great day of sharing together while serving someone else, and it's a tangible expression of our company motto: "Making a Difference."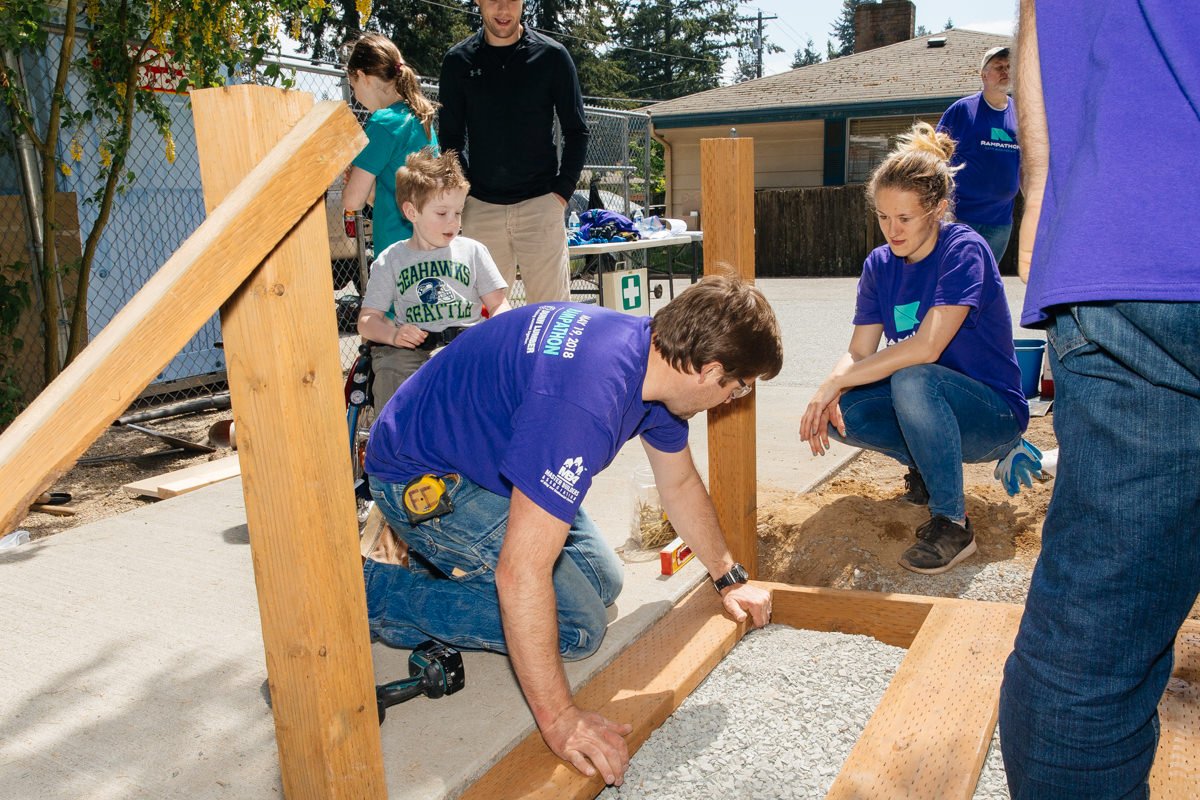 Would you recommend other businesses try Rampathon?
Absolutely! Rampathon has become a kind of "glue" that binds our staff to one another and the community.
Stay tuned for more from Rampathon participants as we gear up for this year's event in May, and take a look at our recent interviews with other Rampathon participants Carlisle Classic Homes, Irons Brothers Construction, Tenhulzen Residential, and Potter Construction.
If you're interested in volunteering for Rampathon, follow the link to sign up.