Moulding Types

Primary Trim
Primary trim is used in most installations. This category includes baseboards, casings, and crown mouldings. Typically, it is the most functional trim since it covers the gaps between two areas, but can be highly decorative and has the ability to set the style tone of the room.
Baseboards anchor a room and create a smooth transition from the wall to the floor, building a seamless look from room to room. Finishing baseboards to blend with flooring will visually expand the size of the space, while matching baseboards with wall color can help give the illusion of taller walls.
TIP: For 8' ceilings, keep your baseboard to a maximum of 5" tall. For 10' ceilings, use 7" as your guide.
Casings are the most visible trim in the home since they are installed at eye level. They can set the tone for the whole design of a space and truly bring a room together. They are primarily used to go around a door or window, covering the gap between drywall and the door or window frame. Casings are generally thicker than baseboard mouldings. And like any framing element, the options are endless, from build-ups of multiple pieces to full wraps.
TIP: Make certain the space around your door opening is wide enough to accept your casing selection. Take into consideration any air vents, light switches and adjoining walls.
Crown moulding softens the transition from the wall to the ceiling with a distinctive flair. By selecting the perfect crown, you can pull together an entire room of trim. They are the jewel of mouldings and give a polished, finished look to any space. Installing a crown more vertically along the top of the wall can make a room seem taller. When crown moulding is installed so that it projects out across the ceiling, it can give the space a more intimate feeling and bring the ceiling height down.
TIP: Use your baseboard measurement to guide the height of your crown. Keep them both relatively close in height.
Design-Enhancing Trim
Design enhancing trim, such as chair rail, panel moulding and architraves add extra dimension and style to any room. Walls with these extra touches will certainly turn heads!
Chair rails are practical as well as decorative and are applied to a wall, anywhere from 24 to 72 inches up from the floor. They were typically specified to protect the wall from scuffs and dents from the backs of chairs, but are now used as beautiful room accents.
Tip: When installing chair rail, be careful not to divide the room in half. The ideal height for an 8' ceiling is between 30"–36" up from the floor.
Architraves, also referred to as a header or pediment, are a form of trim used to accent the top of a doorway, window or opening. Architraves work to add grandeur to any space – reducing miter lines and elevating your look. A great architrave is, above all else, the dressing that's built to impress.
Panel moulding, sometimes referred to as picture mould, has the ability to provide an effective and inexpensive way to transform wall space. This type of trim is very versatile and is often used to frame wall paneling, paper or fabric, and add interest to walls.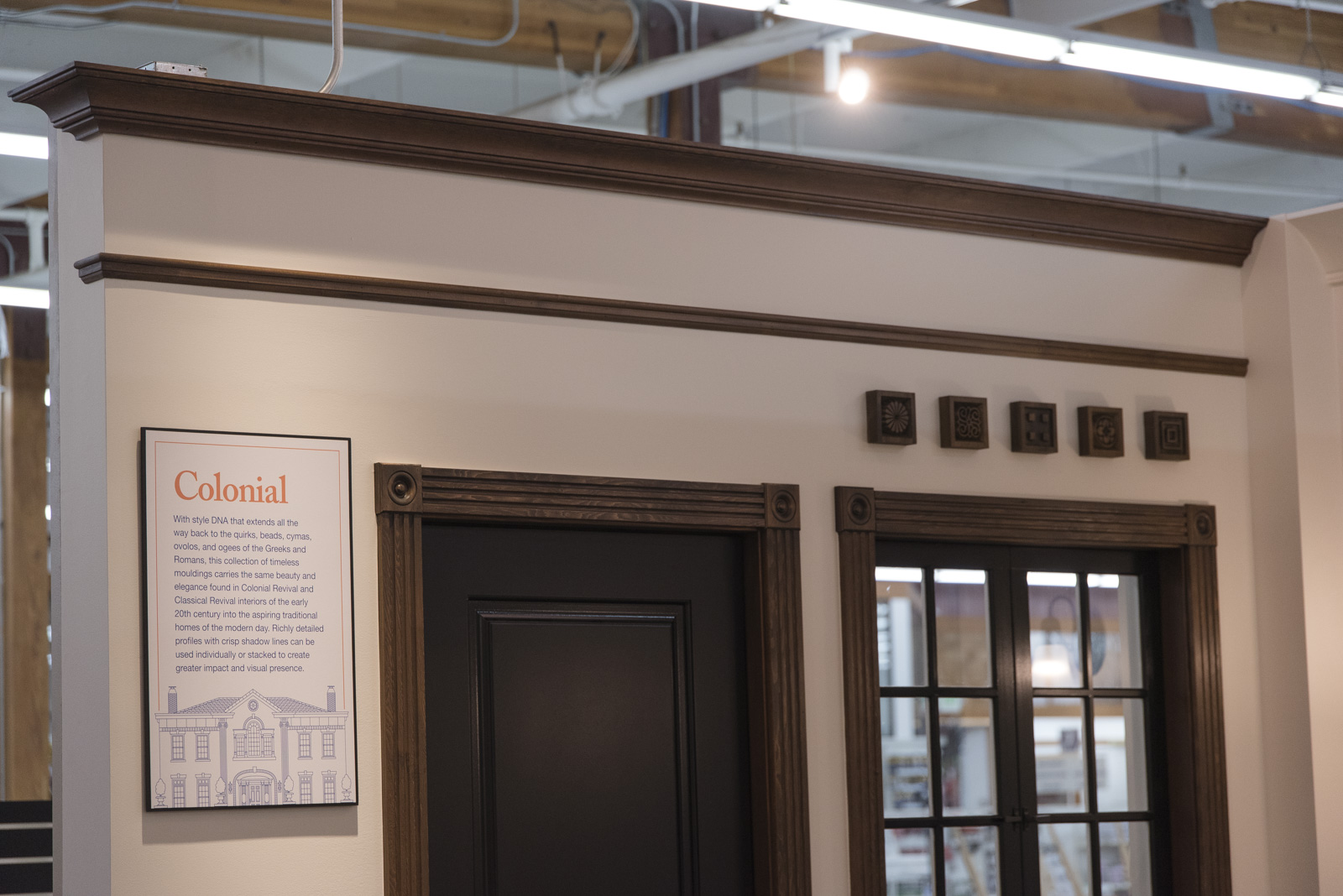 Ornamental Trim
Ornamental trim is the decorative trim that adds specific details to a room. These moulding elements present designers and architects with a wonderful way to "warm up" a plain space while adhering to a client's budget. Corner blocks, plinth blocks, rosettes and Ikons™ make up the category of ornamental trim.
Corner blocks used with the installation of crown moulding eliminate the need to create difficult 45-degree compound miter cuts on crown moulding. Crown blocks also form simple, elegant, decorative corners.
Plinth blocks add a decorative design where the door trim meets the base moulding. The general rule for matching plinths to base and casing is: a plinth can be used with any moulding as long as the moulding is not wider or thicker than the plinth.
Rosettes and Ikons™ are perfect when used at the intersection of two materials, forming a decorative border. Traditional rosettes have limited floral or circular designs, while Ikons™ are more modern patterns that speak to a certain design style. The versatility and design flexibility of these pieces lend themselves to creative expression and can be used to transform a fireplace, embellish a door or add intricacy and beauty to a ceiling.