Today I'm sharing a Q&A with our friend Jonathan Cohen. Jonathan is the director of the Ebanista School of Fine Woodworking, a new school that offers the highest level of instruction in furniture design and building. Prior to Ebanista, Jonathan taught in the furniture design program at the University of Washington and was a correspondent for Fine Woodworking magazine. He has maintained his Seattle-based design/build furniture studio for more than 40 years, and his work is collected across North America and Europe. He's extremely talented, and we're so fortunate he's passing on his knowledge to the next generation at Ebanista. To learn more about the program, click here.
This interview has been condensed and edited for clarity.
Tell me about the name Ebanista and about the space you've found for the school.
I chose the name Ebanista because I speak Spanish and people used to call me "ebanista" [cabinetmaker]. I said, "Not really, I'm a carpenter," and they said "No, tu eres ebanista." And after using that for years, I found it's actually "fine woodworker." I like the name for this space. This space is over 100 years old—it's the old Vitamilk Dairy, and it's one of the last buildings left from that time. The machinery, which is the core of any woodworking shop or school, is all from my studio.
What got you into furniture-making?
My father is an architect, and we always had cool, architectural, Danish furniture. Design is kind of in the family. The only problem I have with architects is that they're clean all the time—I like to have a tangible experience with what I'm building. I started designing when I was young, and in the 70s, went and made custom furniture. I moved to Seattle when I was 21 and started a business. All I wanted to do was make furniture. I figured I'd do it for about three years before I got bored.
I was going to go to law school, but I thought, "Jonathan, you're going to go to law school if you get in (I did). You're going to try and graduate, maybe you will. Maybe you'll pass the bar, maybe you'll get a job. Then they're going to stick you in an interior office with an oak formica desk, you'll make one out of ebony and silver, and pretty soon, people are going to come in and say, 'Well, I don't know what kind of lawyer you are, but will you make me a desk like this?'" So I figured, I'd just take the shortcut and go right to this.
What's one of the pieces you're most proud of?
One of the things I'm most proud of is my work bench, which is made from sycamore. You can't even put a piece of paper through it, and it's 35 years old. The bench is the one piece I'll always keep. My "wing table" was designed for a very famous art collector here in Seattle, and while it's very simple, it's also very important. The photo of that table brought me in over $1M worth of commissions for about 15 years, so it's been very important. It's my Miss American Pie. The other piece that stands out is called the "kimono cabinet"—it's made out of ebony and gold, has 17 secret compartments, took a year-and-a-half to make, and cost $100,000.
What's your favorite wood to work with?
That's not fair! I think cherry is such a beautiful, warm, easy-to-use wood. My personal favorite is bubinga. First of all, I'm into words—bubinga is just fun to say. It's a spectacular wood.
Why is having a school so important to you?
Half the reason I want to do this is because I think the school is important to Seattle—there aren't many schools around that are taught by people who have as much experience as the four of us, which is 170 years. My father was a professor, my mother was a teacher, and people have been asking me to pass my knowledge on. I get more excited teaching than I get doing. I have a love for teaching and the experience. My guys are going to go to the bench, sharpen their plane irons, then make a pile of shavings—that's what I consider the highest level of furniture-making. There are so many bright people out here. Seattle's a bit of a center for woodworking.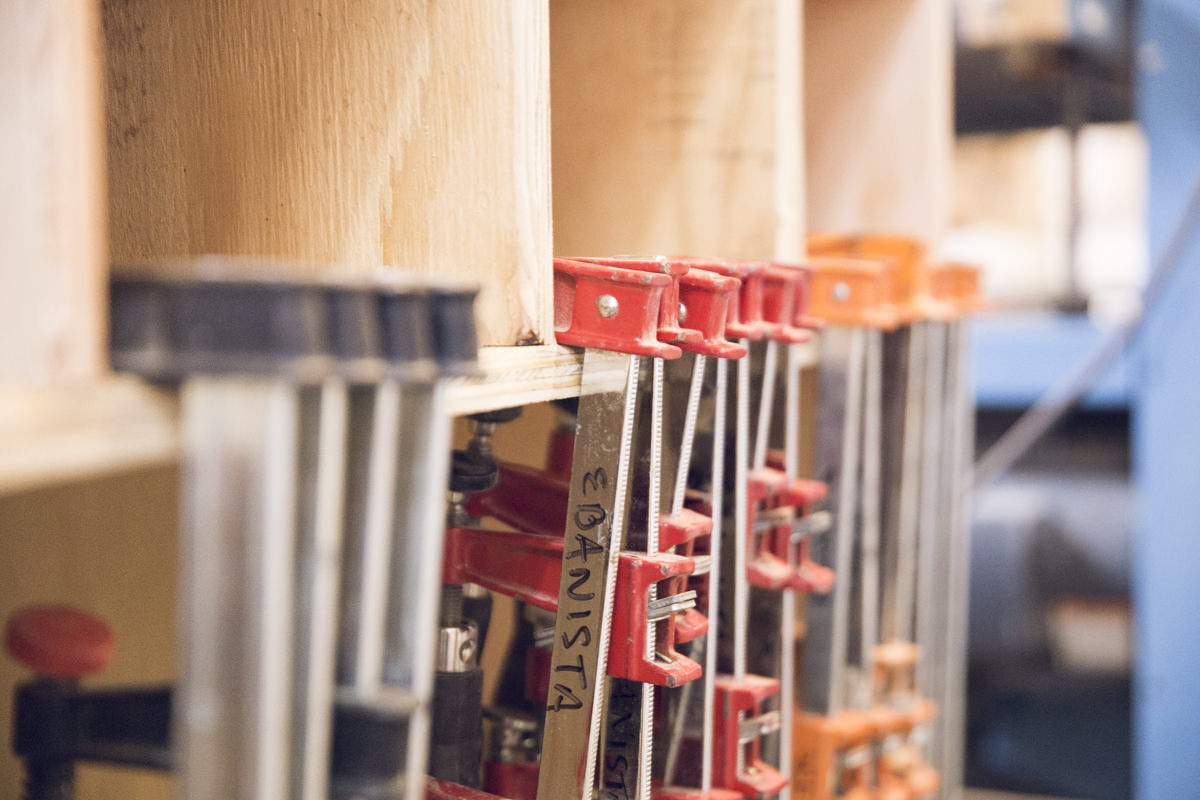 Who is Ebanista's ideal student?
You know, there really isn't an ideal student. Woodworking for a long time has been white and male, and I'm trying to encourage as many ages and races and all genders in here; different people bring different ideas. I want people who have a passion. You can go out and buy something like a wooden tray for $100, or you can take a class for about the same amount and make your own. I dare you not to get excited when you put a coat of oil on a piece of wood you just finished—it's pretty cool. And when people say, "I like your tray, where did you get it?", you get to say something enormously satisfying: I made it.
What do you think is so satisfying about being able to say, "I made it"?
I love the idea of being completely self-sufficient—I don't know why. I built my house on the island. And I learned how to drive an excavator and dug it. I framed it, I wired it, I plumbed it, I roofed it, I built the furniture, I built the doors, I built the cabinets. And I built the dining table. Now, I'm learning how to blow glass so I can have a dinner where people sit down and drink from my glasses at my table and eat the food I've grown. I don't call anybody to do anything, I just do it. This idea that you can do almost anything is kind of amazing.
What difference do you see when people start working with wood?
I'm going to sound like I'm 93 instead of 63, but there's such a tendency to go and check out with a screen. Look at young couples walking down the street, not looking at each other; fathers, not looking at their kids. I don't think there's anything you can do with woodworking but woodworking. It's too dangerous, and even if it weren't, it's too engrossing. The wood just electrifies your hands and completely absorbs you, and that's why I do it. I'm so completely happy. It's an amazing feeling to be that deeply, deeply, connected to something. The only reason to be alive is to connect.
Feeling inspired? Click here to sign up for a fine woodworking class at Ebanista.