There are several hidden fastener systems out there for composite decking. Most of them use a clip of some sort that fits into the edge-groove of a deck board. Some, like FastenMaster's FUSIONLoc, are easily and quickly installed, offering a secure anchoring of deck boards without screw heads showing on the tops of the boards.

The edge of a deck, on the other hand, poses a challenge for hidden fastener systems since many systems use clips that—as I mentioned—fit the edge-groove of a deck board, and homeowners don't want to view that edge-groove. The grooves aren't a problem in the center of a deck, but depending on the deck design, the perimeter boards, first and last boards, stair boards, and breaker boards might need to be square-edged or non-grooved boards. The challenge is discovering how to anchor those boards with no visible screws—just like in the middle of the deck.
That's where FastenMaster's Cortex Hidden Fastening System comes into play. It uses a special bit, screw, and plug that anchors a deck board without screw heads showing.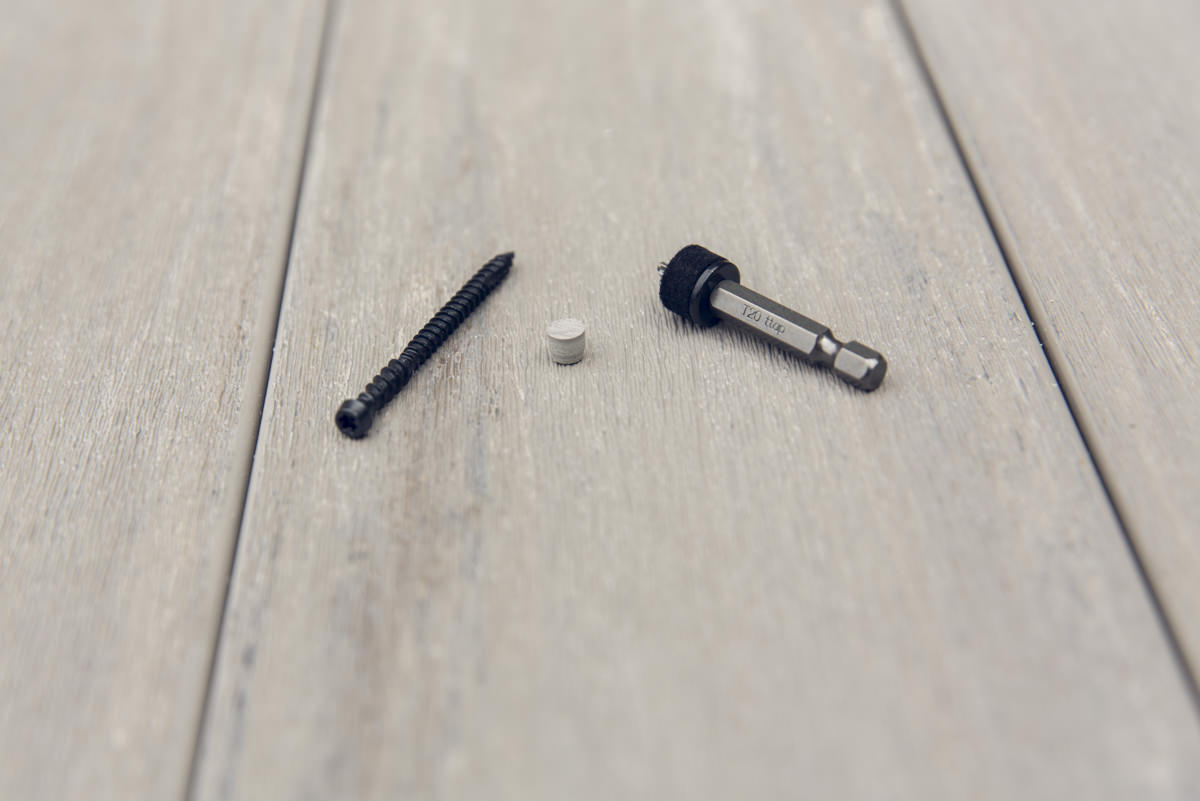 Materials that Work Best with Cortex
The PVC composition of AZEK decking works perfectly with the material used for the Cortex plug. Plugs are color-matched to specific colors of decking. For this project, we're using Coastline from the AZEK Vintage Collection, which offers the look of weathered wood at the seashore with all the durability of PVC decking. Gray remains a popular color for alternative and composite decking, and the subtlety of the finish gives it a realistic look. Plus, AZEK offers a 30-year fade-and-stain warranty and a limited lifetime warranty, which is one of the best guarantees out there.
How to Install Cortex
You'll first want to drive the screw into place. To accomplish this simple step, use the Cortex setting tool to drive the Cortex screw vertically through the deck board into the joist below. The setting tool will both drive the screw and create a shallow, perfectly sized hole for the Cortex plug.
Next, take one of the color-matched plugs and insert it into the hole above the head of the screw you just drove in. Gently tap it into place and watch the hole virtually disappear. No special hammer is required—just a plain, smooth-face framing hammer (or even a rubber mallet, as shown) works great.
Enjoy Your Outdoor Living Space
It's as easy as that. Cortex is a great companion to hidden clip systems like FUSIONLoc, and comes in packages of loose plugs or in collated strips—which makes installation even faster. In addition to AZEK decking, the Cortex system is also color matched for AZEK trim and other decking and trim brands as well. (Some deck builders even use Cortex to fasten all their deck boards.) Thanks to its easy install and ability to virtually disappear, it's a great choice for all sorts of projects.

Learn more about the FUSIONLoc hidden fastener system from AZEK. The FUSIONLoc Hand Driven Tool is great for DIY applications, and the FastenMaster FiveSHOT Tool is a pneumatic nailer that saves contractors hours of labor.