A few yeas ago we had the opportunity to fix structural rot decay in a historic home in the University District. We discovered that the studs and floor rim were so severely decayed they just crumbled in our hands! The project entailed removing the entire wall envelopes, from lath and plaster to studs, to all exterior components. We then surgically rebuilt that side of the home, including historic windows and architectural moldings to match.
It was easy to identify where the moisture was infiltrating. The roof had been replaced a few years prior, and the flashing around the chimney was installed poorly. I was amazed that it was doing anything at all! Unfortunately when discoloration was finally discovered on the living room ceiling, it was too late.
The point here is that if you're a professional, take the time to do the job right. If you're a homeowner, watch and maintain places where moisture may have the opportunity to damage your home including gutters, windows, ceilings, upper decks, and around fireplaces.
Rot doesn't just happen overnight, so the story above is an important lesson to maintain your home, staying vigilant to potential problem areas. And if you're a contractor or carpenter, think about how what you are doing now is going to last the next 30 years or more.
Every rot repair is different, and many require a high level of expertise and precision to be completed properly. And each rot removal project requires a different approach. Repairing a rotten wood windowsill is one thing, but repairing a major structural decay is quite another.
Step 1: Inspect the Damage
First, you need to inspect the damage. Verify the problem areas and the actions that might have allowed a compromise to let moisture into building. Where is the moisture coming from and what part of construction failed? Once you determine the problem, you can work to create your solution, figuring out what needs to be fixed and how.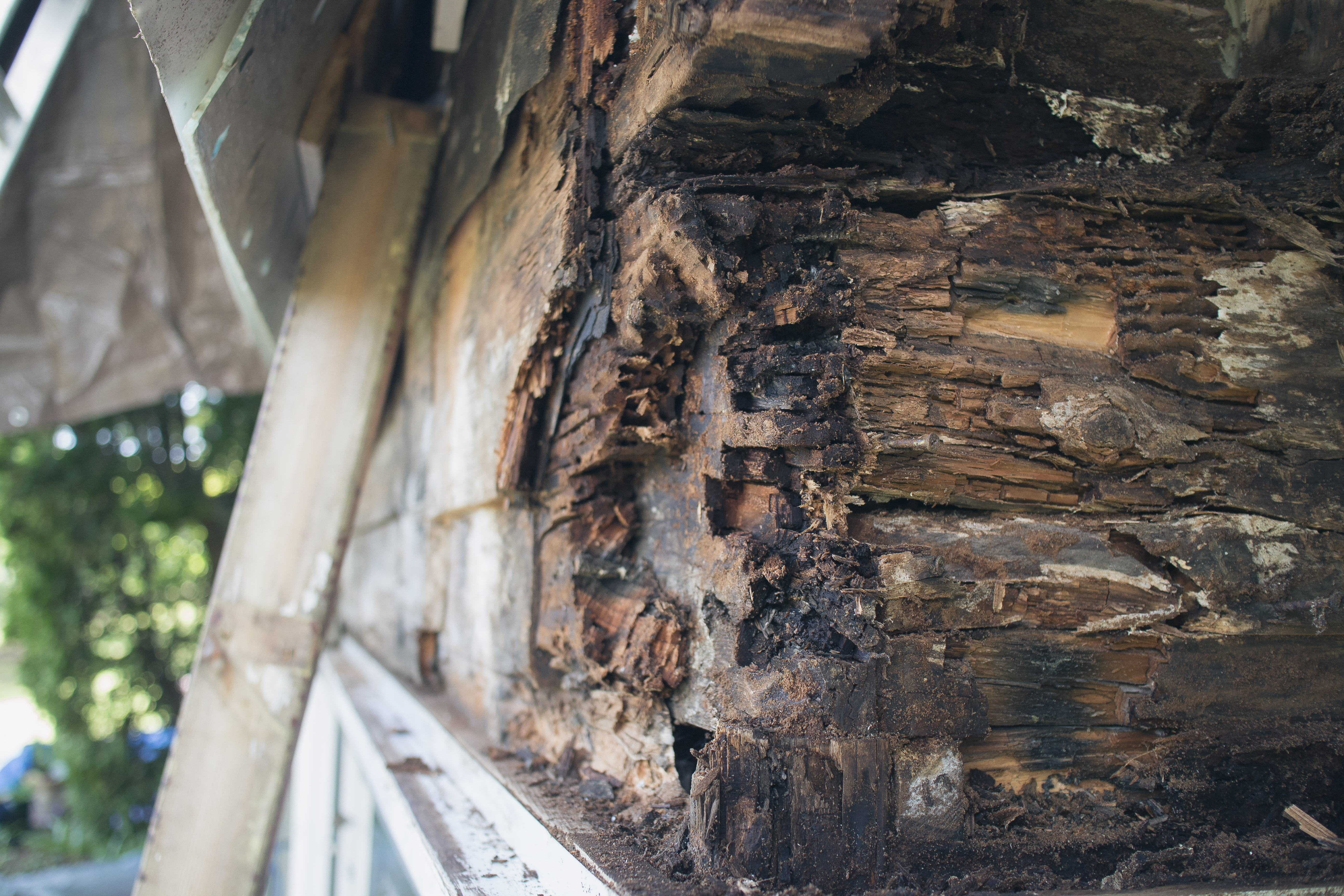 Step 2: Set up Your Jobsite
Now, set up your jobsite. This means adding the proper weather protection and creating work stations to keep organized and efficient.
Step 3: Demolition
Next comes demolition. Verify the extent of the damage; the most important thing to remember is to use low-impact surgical demolition techniques. You don't want to agitate surrounding finish structure such as plaster, and you certainly don't want to compromise the structural integrity of the home. Once you remove the substrates to view damage-exposed wall cavities, shore up the building as needed upon identifying any structural compromise.
Step 4: Rebuild
Now the fun part: rebuilding. You need to frame in the new sections of the building that were removed during demolition. (Be sure to use appropriately-sized dimensional material.) I always use a wood preservative copper coat to help kill any remaining bacteria; I also build from the bottom up. Use screws to secure your material, keeping impact low to surrounding building substrates. Now is the time to install flashing and weather proofing as needed, ensuring that the original problem is fixed properly.
Step 5: Finish the Trim Install
Lastly, finish the trim install. Use glues and screws to secure materials together, and ensure materials are matching to existing and pre-primed components. This is another opportunity to reinforce the weatherproofing by using proper caulking techniques.
Once you've finished the trim, it's time to break the project down. Remove all debris, remove any temporary support, and remove weather protection. (This is pretty standard clean up procedure.)