As a growing trend, manufacturers are improving their offerings in hidden fastener systems for deck boards. One of the newer choices is FastenMaster's FUSIONLoc, which is a collated, matte black, stainless steel clip system. When it's installed with a pneumatic nailer like the FastenMaster FiveSHOT Tool, installation time speeds up considerably. While pneumatic installation requires the investment of a specialty tool like the FiveSHOT, it's well worth it—saving you hours of labor.

FUSIONLoc's Collated Hidden Fastener System
FUSIONLoc is a clip-and-screw, which anchors edge-grooved deck boards to joists. The clips provide three points of contact, securely anchoring boards with minimal chance for squeaking or movement. Because of the clip's matte black color, they virtually disappear once they're installed. And, unlike some clip systems where removing a damaged board means removing all the boards between that one and the edge, FUSIONLoc allows you to remove an individual board should you ever need to replace it or gain access to an area under the deck.
How to Use the FastenMaster FiveSHOT Tool
As I mentioned earlier, FUSIONLoc can be installed with a pneumatic nailer like the FastenMaster FiveSHOT Tool, which is the fastest and most advanced way to install. Another option is using the FUSIONLoc Hand Driven Tool. Either way works, but today we're focusing on the FiveSHOT. As with other pneumatic nailers, you'll need an air compressor and an air hose to get the job done right.
The FiveSHOT loads easily with the collated clips, which come in two boxes: one containing enough to cover 250 square feet, and another containing enough to cover 450 square feet. Those areas of coverage are estimates and assume a 16" on-center joist placement.
Just like a collated nailer shoots nails, the FiveSHOT quickly and easily shoots a fastener into the top of a joist, simultaneously anchoring one side of an edge-grooved deck board and readying for the next board.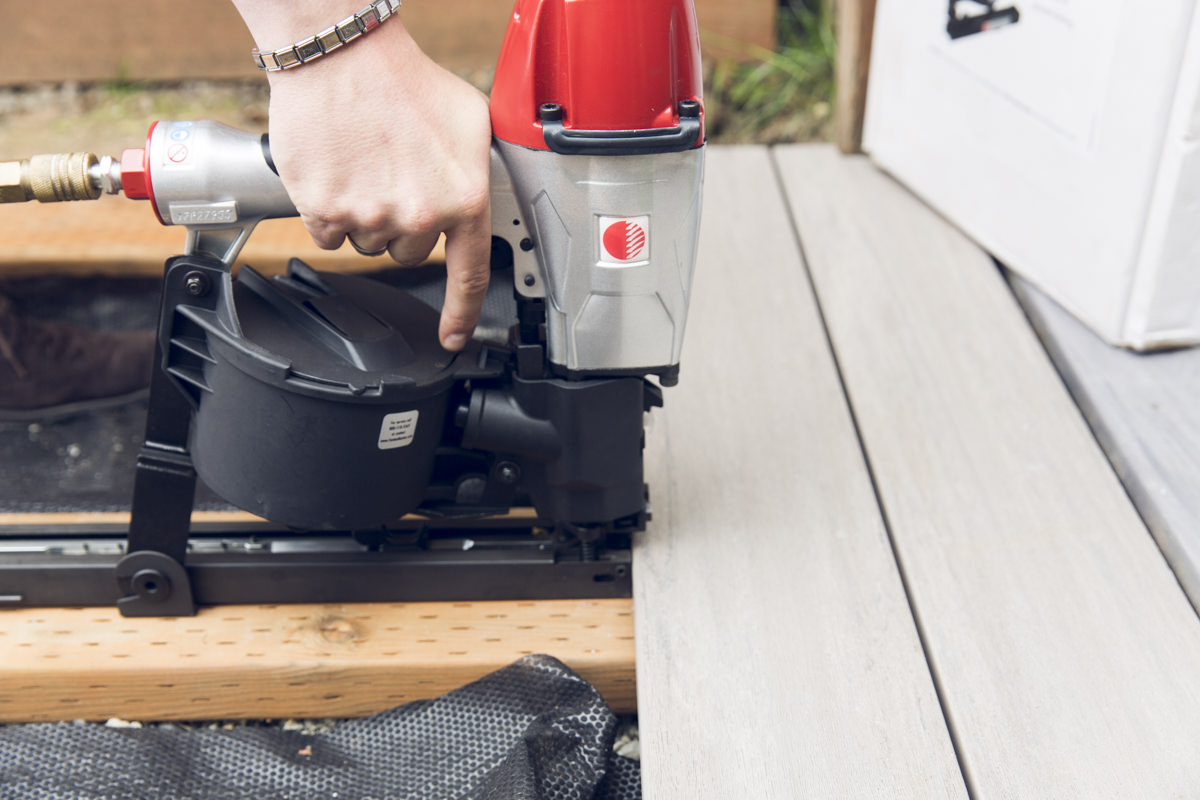 Using FastenMaster's Cortex Hidden Fastening Solution
Something to keep in mind: Many hidden fastener systems use clips that fit the edge groove of a deck board—oftentimes, homeowners don't want to view that edge groove. That's where FastenMaster's Cortex hidden fastening solution comes in—it's a great companion to FUSIONLoc that uses a special bit, screw, and plug to anchor a deck board without screw heads showing. That means the boards on the perimeter of your deck (including first and last boards, stair boards, and breaker boards) can also be fastened without visible screws, just like in the middle of your deck.
Materials that Work Best with FUSIONLoc
FUSIONLoc is particularly suited to work with grooved PVC deck boards from AZEK, and works with some types of TimberTech decking, too. As always, check for compatibility before purchasing your decking and fasteners.

For this project, we're using Coastline from the AZEK Vintage Collection. Coastline looks like weathered wood at the seashore while offering all the durability of PVC decking. Gray remains a popular color for alternative and composite decking, and the subtlety of the finish gives it a realistic look. Plus, AZEK offers a 30-year fade-and-stain warranty and a limited lifetime warranty. It's one of the best guarantees out there.
How to Fasten Your Deck Boards with FUSIONLoc and the FastenMaster FiveSHOT Tool
Secure the front edge of your first deck board using an L-bracket, Cortex, or another method.
Adjust your air compressor to maintain a pressure of 110-115 PSI. This pressure is needed to both sever the collated clips and drive the screw to the proper depth.
Adjust the drive blade height per the gun's instructions.
Insert the gun fully into the groove of the deck board, centering it over the joist.
Push flush against the board for a firm fit and for proper spacing.
Pressing downward with the gun, pull the trigger. The gun will shoot a screw through the center of the FUSIONLoc clip into the joist below. Repeat this at each joist for the length of the board.
To start the next board, raise it slightly to engage the edge groove with the previously placed FUSIONLoc clips. Set the board into place (using a beater board to tap into position if necessary).
When you reach the last board in a run, fasten the back edge the same way you did with your first board—using an L-bracket, Cortex, or the like.
FUSIONLoc's hidden fastening system provides an easy, durable, and secure way to fasten deck boards with the aesthetic upgrade of fasteners that don't show. Thanks to the FastenMaster FiveSHOT Tool, you'll be amazed how quickly you can fasten deck boards.
Learn more about the FUSIONLoc hidden fastener system from AZEK, including their Hand Driven Tool—which is great for DIY applications, and Cortex hidden fasteners for end boards including first and last boards, stair boards, and breaker boards.