Overview
Origin
This brochure was originally created more than 20 years ago by our friends at Taiga Building (formerly Exterior Wood). As you would expect, their goal was to sell more treated lumber, and the brochure was geared to support that. The brochure also provided helpful information such as span charts and basic stair information, as well as limited code information. Dunn staff and customers have used it over the years to gather basic information when planning basic deck projects.
Goal
The title of the brochure does a good job explaining its purpose: It is designed to help plan and build a basic deck. As you can see from the cover and the images on the inside fold-out page, there is just one beam built close to the ground, and we focus on the critical connection points everyone needs to keep in mind. Since calculating required footings has gotten increasingly complicated, we have opted to steer clear of that topic.
Limitations
This brochure is not adequate guidance for the following:
Multi-level decks
Decks with a hot tub, spa, or heavy decking material such as pavers
Decks being built on sloped ground
Free-standing decks (not attached to an exterior wall)
Building a Basic Deck page
Eight components
This page gives a general overview of the steps involved in building a basic deck—from basic layout and building site preparation to blocking for railing posts and proper decking installation tips. These steps provide solid information but are by no means an exhaustive list of everything involved. Once again, we have directed users to contact other qualified resources for help with calculating their required footings.
Code-compliant Guardrail Post Connections page
Two prescriptive methods
We donated an entire page to this topic due to it being a critical connection point that helps keep the structure safe. It is also something that building officials are very likely to scrutinize, especially if they show up on a project site without a required permit. Both methods have been pulled from the Simpson Strong-Tie website and should be generally acceptable to building officials.
Method 1:
Method 2:
Fold-out page
When the brochure is folded out, you will see a full view of the basic deck drawing from the front cover. You will also notice eight (8) specific details that we have chosen to focus on.
Detail 1: Span table
This section will help you calculate the maximum joist span for different sized joists (2x6 - 2x12) for the joist spacing you have chosen (eg., 16" on-center).
Although the max span figures meet code, it is generally advised to try to plan for a smaller span. Once you have found the maximum joist span for your project, you can follow the table to the right to find the maximum spans for different beam sizes (4x6 - 4x12). This information helps you determine the spacing of your support posts.
Again, it's wise to plan for a little less than the maximum distance between posts. Why? One reason is that your support posts are required to be centered on your footings. If you have maxed out your beam span and your footings are off-center a few inches, you have no flexibility to adjust as needed.
As mentioned a few times above, we include a note steering the project builder elsewhere for help in calculating footing size.
Detail 2: Stairs
Here you'll see a simple diagram that shows rise and run, but when it comes to building stairs, there is a lot more to know than what this brochure provides. The suggested step ratio information is to provide comfort and safety for the end user.
The "Rules of Thumb" section lists five key pieces of information. A good building official will check each of these requirements. In the case of a non-permitted project, not following these rules will create safety hazards for end users.
Another thing to keep in mind is the "on-center" spacing requirements for stair stringers when using manufactured decking for treads. The requirement is almost always less than 16" on-center, and with some products might be as little as 9".
Detail 3: Layout
The layout section shows a drawing of a basic deck (one beam and one level attached to a residential home). The "Length Reference" table at the top of the page provides insight on the measurements of different components in comparison to one another.
We included a QR code that links to a simple blog article explaining the 3'-4'-5' squaring method. We also note that any attached deck (no matter how small) must have a minimum of four (4) of the DTT1Z deck tension ties (or equivalent) installed on the project.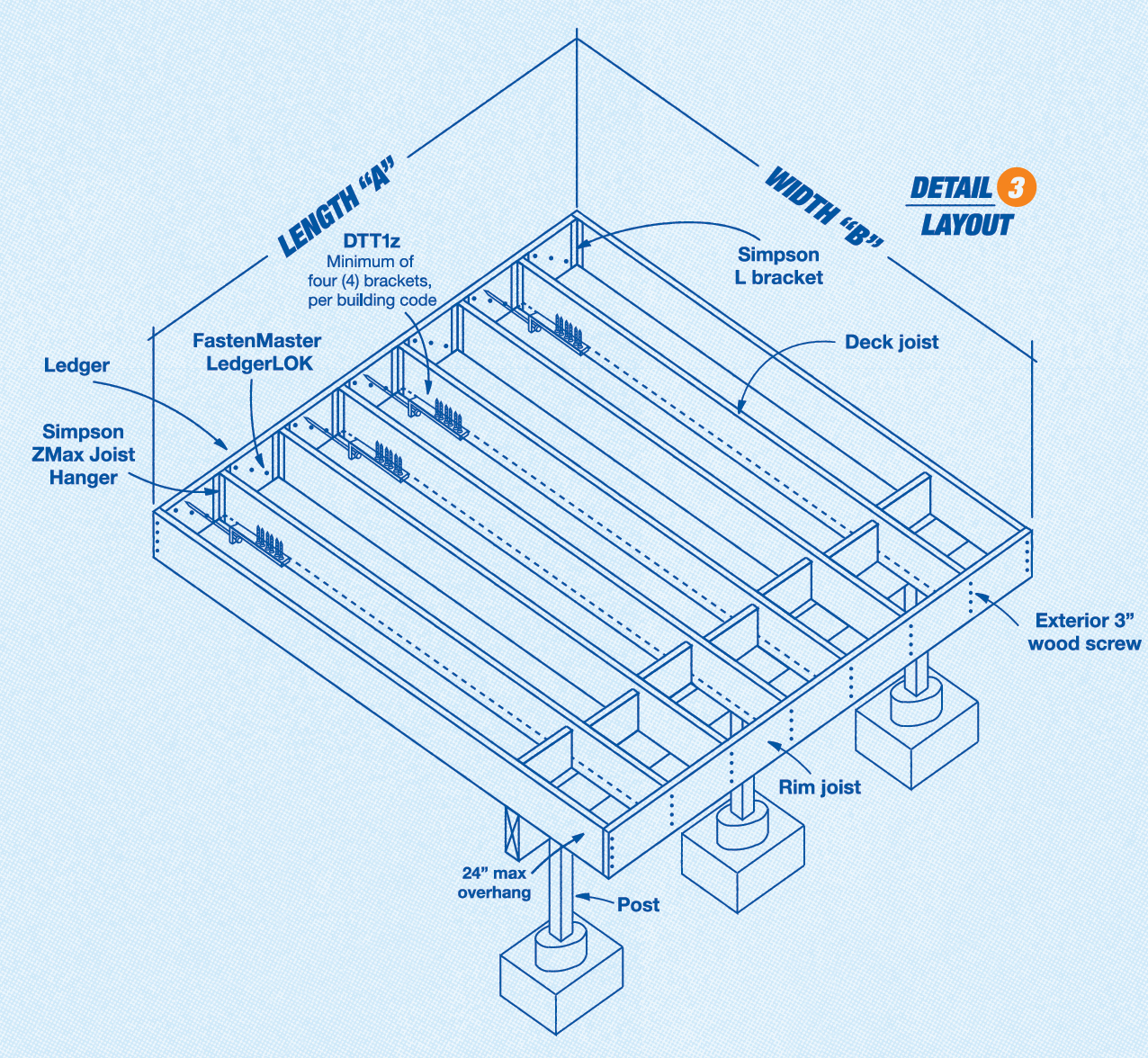 Detail 4: Blocking
This detail shows the required blocking between joists on top of the beam; note how it is staggered to make for easier installation. Depending on the size of your project, some decking manufacturers may require additional rows of blocking—this information would be included in the installation manual.
See the "Pro Tips" page for more helpful information on installing blocking.
Detail 5: Multiple beam connection
This graphic shows two beams sharing a single support post. One key takeaway is the equal bearing of both beams on the support post as well as an adequate post-to-beam connector. Another is the centering of the support post on the footing, and the point where the post meets the footing being well above grade.
Detail 6: Post/beam connection
The detail illustrated here highlights the post-to-beam connection, referencing a Simpson Strong-Tie AC*Z connector. It also shows the support post connection to the footing, referencing the Simpson Strong-Tie EPB**HDG (elevated post base) or the CB**HDG (column base) bracket.
Detail 7: DTT2Z Mounting
This shows one prescriptive method that meets the requirements for addressing lateral loads using the DTT2Z Deck Tension Tie product from Simpson Strong-Tie. Access to the "house side" of the deck ledger is needed to install this solution efficiently. This is probably not an ideal option if it requires cutting open a finished ceiling to access the floor joists of the home.
Note: If choosing this method to meet the lateral load requirements for your project, you will need to install a minimum of two (2) Deck Tension Ties, each of them located within 2' of the outside joists. (This product is rated at 1500 lbs. each.)
Detail 8: DTT1Z Mounting
This is another approved method to meet the lateral load requirements for a deck project. The DTT1Z Deck Tension Tie product from Simpson Strong-Tie is generally much easier to use since you can do it all from the exterior of the home.
Note: If choosing this method to meet the lateral load requirements for your project, you will need to install a minimum of four (4) Deck Tension Ties, with the two at each end of your deck being within 2' of the outside joists. (This product is rated at 750 lbs. each)
Pro tips
Installing a straight rim board and leveling joists
This section goes into greater detail on some best practices that will help improve your framing accuracy, and ultimately make your finished project look nicer.
The first item discussed talks about how to install a nice, straight rim joist. The next tip is designed to help keep your joists level and minimize the amount of time spent with a power plane. Having a straight rim board will make your fascia install look good.
As we've discussed throughout this brochure, this method of leveling the joists over the beam will go a long way toward keeping your deck surface level and attractive.
Rock-solid bottom stair posts
Adding a code-compliant railing system to your stairs is challenging enough—let alone trying to get your head around how to attach the bottom stair posts and make them "rock-solid"! As you can imagine, there is a lot that goes into it—that's why we chose to utilize another QR code to share a couple of ways you can accomplish this.
Enjoy!