Specific jobs require specific products, and using the right screw is vital to a successful project. In this series, we're learning about the various types of screws sold by Screw Products Inc. from their president and CEO, Jim Miller. So far, we've looked at five different types of screws designed to make fastening easy and solid. Today, we're highlighting the brand's assortment kits—just the thing to have on hand at the job site or at home. Plus, they make a great gift!
Why use assortment kits?
If you've ever found yourself in need of just a few screws to complete a job, rather than rummaging through your toolbox or tool bag, these kits make it easy to find the right screw. Assortment kits are a convenient selection of screws packaged in a sturdy, reusable organizer. The compartmentalized kit opens like a briefcase—just reach in and grab the screw you're after.
The pre-selected assortment of screws is great to have on the jobsite and in your work truck, workshop, garage, or home. The slim kits are easy to carry and come in multiple kinds of assortments for different needs. Plus, you can reload the kit as you use it or reconfigure the compartments to your liking.
What will I find in the kit?
Depending on the assortment kit you choose, you'll find 10 or more different kinds of screws ranging from 1 1/4" to 4" in length, plus a quick-release magnetic bit holder and driver bits. A key printed on the underside of the kit's lid tells you the specific size of the screws each compartment holds, as well as which size driver bit is required.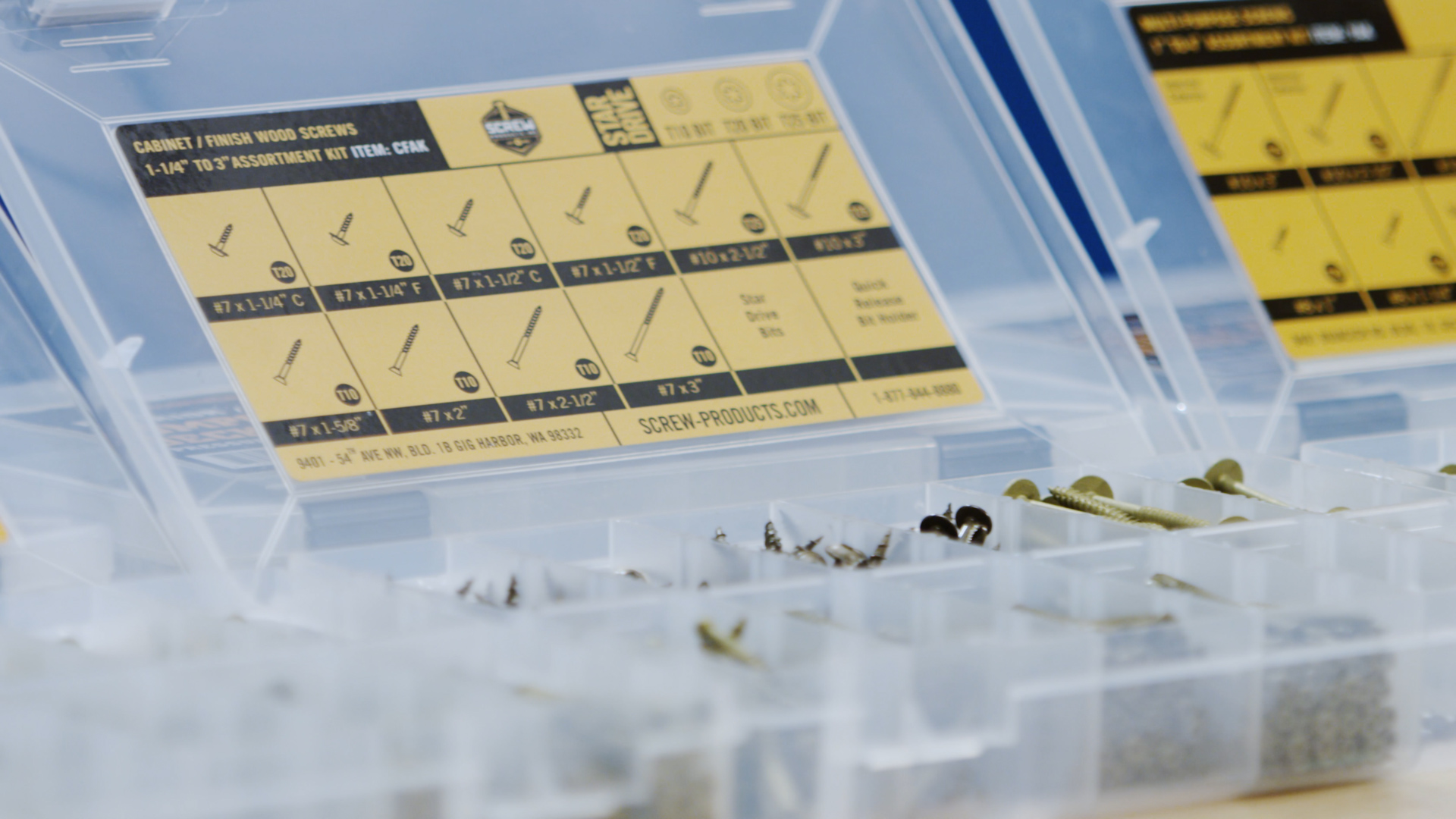 What types of kits are available?
Screw Products Inc. currently offers trim-head wood screw, construction lag and cabinet screw, wood screw, stainless steel wood screw, and multi-colored composite deck screw pre-selected assortments. All kits contain Star Drive screws, a magnetic bit holder, and driver bits.
More types of assortment kits are to come.
These assorted screw kits are economical, compact, and the perfect accessory for your toolbag, truck, home, garage, workshop, or jobsite. They make a great gift too! Watch for more kits to become available, and see the current product offerings here. Don't forget to check out the other videos in our screw series to learn more about the types of screws included in the assortment kits: composite deck screws, cement board screws, structural lag screws, AURA screws, and AXIS screws.