"I was honored to have had the opportunity to be involved with something that could make life better for folks—total strangers—in real need. It's wonderful that Rampathon is celebrating 25 years." —Michael Bogan, former Rampathon chair
The reasons why people need wheelchair ramps are endless—babies are born daily with conditions that affect their ability to ever walk. People experience accidents or develop diseases or disorders that leave them suddenly disabled. The stories are varied, and they're numbered.
It's a wonder and a shame, then, that so many people who use a wheelchair live without access ramps. When you've lost your job or don't have the ability to work—or you unexpectedly become a full-time caregiver—it's hard to support your family and pay the medical bills. Oftentimes, paying for a ramp is out of the question.
Enter Rampathon, an appropriately named one-day sprint in which a group of volunteers from the Master Builders Association of King and Snohomish Counties and the community sets out on a mission: to improve the lives of their neighbors in need with wheelchair access ramps.
Each May since 1993, dozens of families across King and Snohomish counties receive a ramp at no cost thanks to volunteer support and donated materials. To date, Rampathon has constructed over 450 ramps and contributed more than $2 million in in-kind contributions to the community. This year, the goal is 50 new ramps—two times the number of years they've been around in honor of their 25th anniversary—and they're likely to hit it for their biggest year yet.
The Early Years
Rampathon started as a national effort in 1992, when the National Association of Home Builders initiated the program and challenged local associations to participate all across the country. The following year, the MBA Remodelers Council—a group of building and remodeling contractors focused on sharing best practices and networking within the industry—decided to take it on. In the early days, rounding up materials and volunteers—and the deployment of both—looked much different.
Riley Shirey, founder of Shirey Home Pro, got involved in 1995, after one of Shirey Home Pro's employees, Doug Oslund, showed interest. Back then, they were only building a handful of ramps each year. In fact, Doug had materials dropped in his cul-de-sac, loaded them up in the company truck, then delivered them to the job sites. At the time, the standard ramp was constructed of pressure-treated lumber framework, concrete pier blocks, and a textured 3/4" plywood product manufactured by Simpson.
In 1996, Michael Bogan, founder and owner of J.M. Bogan Remodeling, served as the Rampathon committee chair. He was a committee of one, responsible for meeting all of the individuals requesting ramps. At that time, volunteer involvement was limited—so was promotion and fundraising. "The suggested number of ramps was five, and that's how many we did," says Michael. But, he adds, "most of the ramp builders—like Riley Shirey—donated much more than labor." That was what made Rampathon a success—people pouring everything they could into the organization.
In the years that followed, Rampathon received some media attention—Michael was featured on the local news, and one of Riley's ramps was shown in the Seattle Times. By '98, Rampathon was promoted year-round within the Remodelers Council, and they were actively fundraising. "We would place pledge cards at each table during our dinner meetings, and we raised enough funds amongst ourselves to build many ramps that year and thereafter thanks to the leadership and passion of our members," says Michael.
Building Momentum
In 1999, Darylene Dennon, CEO and president of Solid Energy Incorporated got involved, creating and developing much of the processes, procedures, and orientations that have evolved over the years. As co-chair and chair of the Rampathon committee, she spearheaded many of the administrative tasks, whether it was assembling paperwork for the captains, lining up food and coffee for the day, or putting together promotional efforts such as T-shirts and communications. "Besides being a great opportunity for all MBA members to give back to our community, it provides an opportunity for members to come together for a single cause and get to know each other in a charitable way," says Darylene, who's volunteered for nearly two decades. "We would go home tired but feeling so wonderful that we made a difference for one person by building a ramp for them. It's so inspiring."
Rampathon Today
Michell Filleau-Maas, manager for the MBA's community stewardship department, joined the MBA team in 2012 and now heads up Rampathon. The organization, which had a healthy past, saw a dip during the recession. After completing 30 ramps in 2009, crews were cut; people were spending more time trying to make a living than they were volunteering. "The economic status in general wasn't great," says Michell. "We kept the project going, but it was scaled back."
In 2010, Dunn Lumber—a long-time sponsor of Rampathon—saw the struggles of the would-be ramp captains and shifted its support from a cash sponsorship to an in-kind sponsorship, supplying the majority of materials needed to build a ramp based on the approved design.
This pivot by Dunn Lumber—combined with Michell's effort and commitment—allowed Rampathon to weather the Great Recession and slowly start growing the program again.
And they did. Michell saw 16 ramps built her first year. The next year, 18. Then it was 20. By 2017, they'd surpassed their pre-recession high and built 43 ramps. This year, the goal is to reach 50.
The Process—From Application to Selection
The process looks the same each year. In November, Michell reaches out to all of the captains who captained the year before and a list of potential new ones. "Before I leave on Christmas holiday, I usually have at least five or 10 captains in place," she says. "They call and say, 'I'm in again, I'm in again.' They don't need any other details other than the date."

Other volunteers learn about the program by word of mouth—it's not hard to recruit volunteers, whether they're MBA members or not. "A lot of our participants are really interested in signing up for Rampathon because it's just such a fantastic program," says Michell. "You can make such a huge impact—all in a day and without a massive commitment," echos Shelli Lucus-Kennedy, principal of American Insurance Associates and Insurance Risk Services, and an MBA volunteer.
As the teams are being assembled, recipient applications open—and they always come flooding in. Last year, the MBA received over 175. Applicants are selected based on a variety of factors, including the condition and location of the site (they must be in King or Snohomish counties, for example) and the applicant's needs. "I usually give our team captains three or four options and ask them to do a drive-by to see what things look like," says Michell. "A lot of them like to take it further than that; they want to go out and measure to see exactly what they've got to work with in terms of space; they want a quick meet-and-greet with the recipient and their family."
The site visit gives the team a feel for the atmosphere and the logistics of the project, and from there, the team captain makes their pick and calls the recipient to let them know they'll be getting a ramp. "Once they've done that, I do the follow-up call to confirm that yes, in fact, this is free to them," says Michell. "A lot of people are really excited and happy and grateful, but then they're really concerned that there's some hidden cost they're going to get hit with after the ramp goes in. I assure them repeatedly that this is free of charge—this is our community stewardship project we do every year."
Building Day
The building starts with help from the "Ramp Captain's Packet," which includes everything a team would need to know, from ADA guidelines to general information to sample designs and material orders that can easily be amended to accommodate the specific needs of the project at hand. For the most part, teams stick to the ramp-building basics, but on occasion, some of the more experienced captains do something a little bit different that fits in with the family's landscape or the natural features of the home.

Another extremely important consideration is King County Access, which provides public transportation for people with disabilities—their requirements for pick-up are stricter than the standard ADA guidelines, and as such, the Rampathon teams need to keep transit in mind.
After a day of hard work—sometimes in wet, windy conditions—the recipient receives a brand new ramp that meets all of their requirements.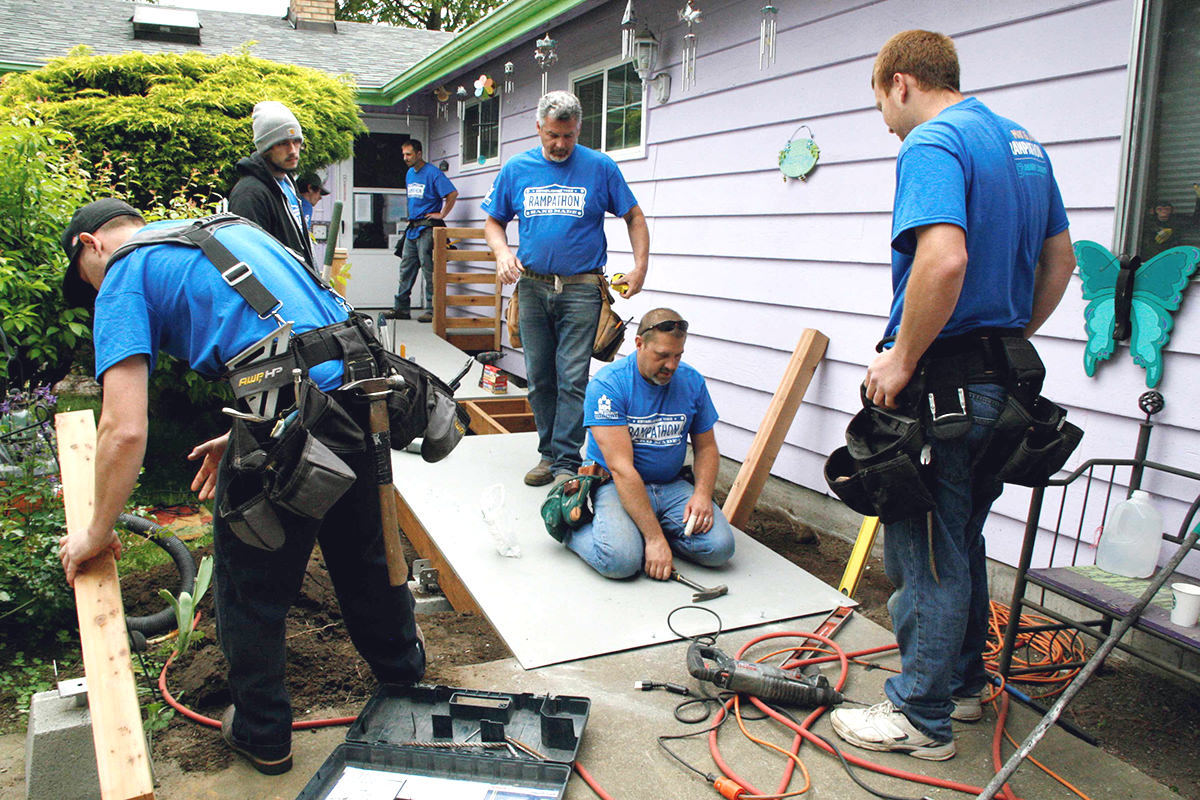 The Recipients
The recipient population ranges from small children—their youngest recipient was a 2-year-old—to adults nearing 100 years. Many are young or middle-aged adults who've experienced a recently diagnosed issue or an accident. Across the applications are harrowing and humbling stories of people who face unimaginable challenges—loved ones who have never been cognizant or ever will be again; loved ones who were once active and are now housebound. In some cases, the recipients require equipment beyond a wheelchair, like ambulatory help and oxygen.

Regardless of socioeconomic status, everyone who's in need of a ramp has been impacted financially, says Michell. "Oftentimes, these people are full-time caregivers, so they're not able to work outside the home. They're caring for kids or a spouse. Sometimes it's a sudden thing. We get a lot of people who are in their 70s or 80s and are caring for their children who are in their 50s and 60s." Even if there hasn't been a drastic income change, many are strapped by medical bills and don't have the expendable income to spend on a ramp.
But the ramps aren't a nice-to-have; they're a need-to-have. "The overriding concern is emergency situations," says Michell. Beyond the concern of not being able to easily make a doctor's appointment or get to the grocery store is a greater fear: a fire or serious medical incident.
The "Why" for Volunteers
For everyone involved with Rampathon, it's not just about building a ramp—it's about making a significant difference in the lives of the people who rely on ramps to get the care they need. This is top of mind.
Shelli gained an ever greater appreciation for the community she's serving after becoming disabled and spending a year in a wheelchair herself. (She's now able to walk for short periods of time.) "It just became a hassle to do anything," she says. "And it was 100 percent about dignity." Which is why she calls the ability to give people the freedom to get in and out of the house by themselves, without having to rely on anyone else, "such a gift."
Shelli recalls one recipient in particular: a well-known and respected fireman from Redmond who'd been in a bad accident. His life changed. On top of supporting himself and his family, he was putting two children through college. He put on a big, brave face, "but what people didn't see," says Shelli, "was his wife inside. She was melting down, just losing it. This was all new, and she was worried how they were going to get their kids through school. Here was this woman showing the whole emotion of the day, wondering what was going to happen to her kids, to the rest of her life, to everything." When the ramp was finished, "she was so thrilled," says Shelli. "And when you see that, that changes your life. I drive by that house every so often and still see that ramp sitting there." There are hundreds of Rampathon stories just like this.
Keeping it Going
Michell says she wishes she could help everyone who applies. Each year, thanks to the generosity of others, Rampathon gets closer.
Over time, with the committed partnerships of key suppliers, Dunn has been able to be more and more generous, supplying the majority of the materials needed by the ramp captains.
Dunn Lumber would like to enthusiastically recognize the continuous, generous support of vendor partners such as Exterior Wood, Inc.; Hall Forest Products; Oldcastle Architectural; Boise Cascade; L.J. Smith Stair Systems, and International Wood Products.
Some of the materials are expected to be provided by the captains themselves—nails, screws, nuts, bolts, stain, tools, and so forth; but Rampathon can pretty much guarantee that a ramp captain won't be out-of-pocket more than $500 (hopefully a lot less) if they follow the recommended ramp design in the packet. The donated materials take a big burden off existing ramp captains, and encourage would-be ramp captains to dip their toes in the water.
In talking with recipients over the years, the Rampathon team has discovered that it's possible for those in need to receive financial assistance for mobility devices, modified vehicles, and so forth, but there isn't really any system that provides funding for creating access ramps for someone's home. In the future, Dunn Lumber's goal is to find a donor partner that has a vision and heart for the value these ramps provide. With the right benefactor, Rampathon could potentially expand the program in a way that would allow us to serve more people in need at other times of the year.
How to Get Involved
Rampathon needs a number of things to grow and thrive each year: participation and leadership on the ramp captains' end, additional financial support, and volunteers. "Dunn Lumber is fantastic and keeps supporting us as we get bigger and bigger, but that's a huge financial burden on a grand sponsor," says Michell.
People sometimes feel that a small contribution won't do much, but in the end, it adds up—anything people donate to Rampathon, whether it's $25 or $1,000, is earmarked specifically for Rampathon. Same goes for volunteers. You don't have to be a member of the Master Builders Association to participate or get involved. "If you want to get involved," says Michell, "you're more than welcome to."
"Rampathon is one of those things that once you do it—even if you don't have the opportunity to do it again—it doesn't leave you," says Michell. And it doesn't leave the recipient, either. "It's very impactful for everybody who's involved."
If you're in a position to consider a significant financial partnership in support of Rampathon, please reach out to me at jimc@dunnlumber.com.